26th edition of the Automaticon International Automation and Measurements Fair
Automaticon International Automation and Measurements Fair - one of the key industry events - took place in the Warsaw EXPO XXI Centre between 26 and 28 January 2022. Honorary Patronage of the events was taken by: Ministry of Economic Development and Technology, Minister of Education and Science, Marshal of the Mazowieckie Voivodeship, Adam Struzik, Automation and Robotics Committee of the Polish Academy of Sciences.
An integral part of each edition of the Automaticon International Automation and Measurements Fair is the awarding of Gold Medals - prestigious prizes awarded for innovative products from the broadly understood automation. This year, we - CBRTP - were awarded the Gold Medal for our Robotic Plastering System (ZST)!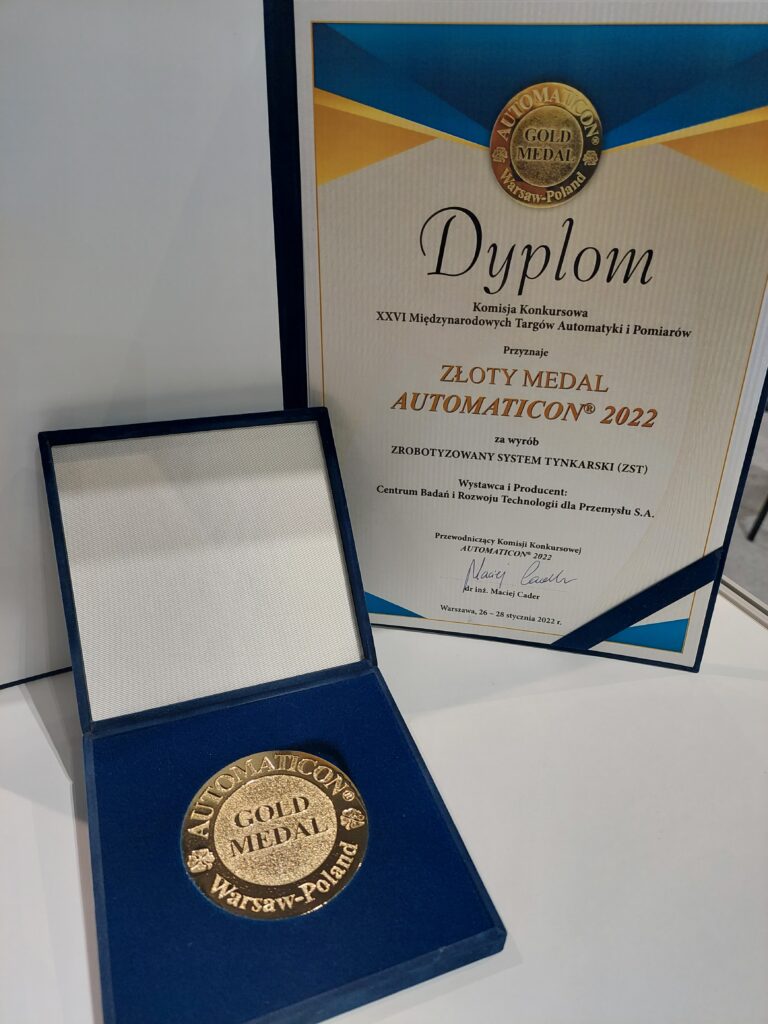 The ZST system is a product which facilitates automation of the process of interior wall plastering in the field of covering a wall with a plaster mix, trowelling and levelling the mix. The system makes it possible to automatically prepare the wall surface for the finishing processes such as sponging, having regard to the correction of wall defects, and the extension of sections and angles with a minimal operator input whilst complying with the quality requirements.
The system helps to increase the work ergonomics of a plastering team by eliminating activities that are considered physically demanding while increasing the productivity and quality of work. The system was developed as part of the EU project that we have executed together with the Kielce University of Technology and Strabag company. This is an answer to the growing market demand, especially from the civil engineering industry, for this type of innovative solution.
CBRTP's proprietary "plastering robot" solution. The masonry robots not only automate the time-consuming and repetitive activities of the plastering team, but also optimally utilise qualified personnel, the shortage of which is currently posing a significant barrier to the development of construction companies - says Laura Kloch, EU projects Senior Consultant at Centrum Badań i Rozwoju Technologii dla Przemysłu S.A.
The Automaticon trade-fair is an excellent meeting place for business and industry. 218 businesses, 4,534 visitors and 246 course participants, workshops and seminars held during the event - these are the numbers summarising this year's fair. 12% of the visitors represented foreign countries, such as: Albania, Latvia, Ukraine, France, Lithuania, Belgium, Germany, Croatia, Moldova, Russia, Austria, Norway, Kazakhstan, Estonia, Great Britain, Ireland, Italy, Portugal, Czechia, the Netherlands, Slovakia, Kosovo, Denmark and Iceland.